ALL KIND OF ROLLING MILL ROLLS
ALLOY CAST IRON INDEFINITE CHILL ROLL(STATIC CAST)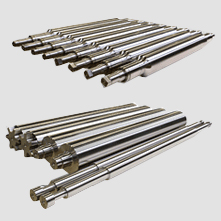 Literature
As the name implies, the barrel surface of these rolls does not show a clear chill layer but rather a gradual transition from a carbide rich structure containing a small amount of fine the surface to grey core material. These rolls ensure minimum sacrifice of clear chill while achieving maximum functions depth.
The transition from chill to graphite being smoother, the gradual change in hardness with the indefinite-chill structure allows deeper grooving. Thus indefinite chill rolls are superior in biting performance and have enough strength and resistance against thermal shock occurring at the rolling operation to other chill rolls.
The presence of the graphite improves spell resistance and also enhances resistance to fire cracking. These rolls are available on pearlitic matrix as well as acicular/bainitic matrix as well depending on the requirement of rolling mill.
Application These properties together with the excellent product surface finish these rolls very suitable for application where this feature is important.
Forge Roll
Forging is a process is which the casted ingot is heated in the furnace & then material is hammered according to the customers size & requirements, thereafter heat treatment is done in normalizing/annealing furnace, forged rolls are manufactured from carbon steel, alloys steel & stainless steel, these rolls are available in primarily in forged m. s. rolls, forged en-8 rolls, forged en-9 rolls, forged en-19 rolls, forged en-24 rolls, forged en-31 rolls, forged en-42 rolls forged class 2 & forged class 3 etcetera, our forged rolls are available with groove, bearing sizes, ready to use conditions or in semi-finished or in black forged condition, apart from rolls we offer forged products range of forged spindles, forged rings, forged shafts, forged blanks, forged cranks, forged pinion gears, flanges, forged wheels & other specially ordered products, all forged products are dispatched with essential certification, addition to that we also offer ultrasonically tested forgings for variety of applications.
Advantage
The forging process help in cohesiveness and strength by elongation of the grain structure, which results in material having much higher load bearing capacities as compare to casted material forged rolls offered by us having good combination of the hardness surface with high resistance to wear, heat check and though core resistance to breakage ti also has an ideal hardness profile from surface to core and very high resistance to spilling, we offer all it in accurate size, weight & finish with very quick & timely delivery.
Forged Rolls for Cold Rolling Mills
Forged Blanks/Cranks
Forged Reduction/Pinion Gears
Roughing Stand Forged Rolls
Large Diameter Forged Shafts
Forged Large Diameter Pipes
All Grade Forged Cylinders
Forged Rolls for Stainless Steel Mills
Forged Back-up Rolls
Forged Wheels
Forged Automobile & Crane Parts
Forged Rolls for Hot Steel Rolling Mills