GEAR FLEX COUPLINGS
GEAR-FLEX COUPLINGS – JFG/JHG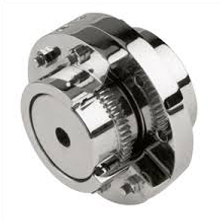 CONSTRUCTION
Full gear type JFG Jaypee Flexible Gear Coupling consists of two identical toothed hubs, two identical flanged sleeves with internal teeth, a gasket, a set of bolts, nuts and lock washers, lube plugs and two oil/grease retaining seals over the hubs.
NOMENCLATURE
Forged Hubs with External Teeth
Forged Sleeves with Internal Teeth
Flange Gasket
Close Tolerance Connecting Bolts
Lubrication Plug
SELECTION PROCEDURE
Select an appropriate Service Factor from table given below
Multiply the rated running power by the service factor. This gives Design Power speed (rpm). Convert this to design power at 100 rpm. This is used as a basis for coupling selection.
Refer to the rating column and read until the power greater than or equal to the design power at 100 rpm is found. The size of the gear coupling is given in the corresponding first column. Check the max bore capacities. If required bore size is greater than the max. bore of selected coupling size, then go for higher size to meet the required bore.
SERVICE FACTORS
LOAD
DRIVERN EQUIPMENT
TYPE OF DRIVE
Motoror Turbine
Reciprocating Engine
Uniform
Centrifugal Pumps, Conveyors – Even Loaded, Exciters,Fans and Blowers – Light Duty, Generators – Even Loaded& Mixers – Liquid
1
1.5
Light
Centrifugal Pumps, Generators – Pulsating Load, Grinders,Hydraulic Pumps, Kilns, Line Shafting, Machine Tools,Oscillating Pumps, Textiles Machinery &woodworking Machinery
1.5
2
Medium
Air Compressors – Multi – Cylinder, Ball and Rod Mills, Cranes,Elevators, Hoists, Punch Presses, Reciprocating Pumps, Shears,Ship Drives & Welding Generators
2
2.5
Heavy
Air Compressors, Single Cylinders, Dredges, Drilling Rigs,Mine Machinery, Rolling Mill Drives & Rubber Mixers.
2.5
3
Extreme
One Crushers, Bar Stock Shears & Vibrating Conveyors
3
4
Features
Standard Half Flexible gear coupling Type JHG Cannot accommodate parallel misalignment
Used primarily with floating shaft assemblies. Extensively used for cross traverse and long travel line shaft drives
GEAR FLEX COUPLINGS – LFG/LHG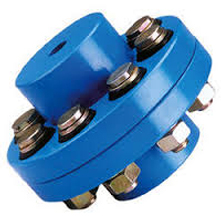 Less Backlash
Larger Bore Capacities
Compact Assembly
High Power To weight Ratio
Accommodates Angular, Parallel & Axial Misalignments
Generally used upto 120 C can be used for higher temperatures by using proper grade of grease or oil.
Spares of rolling mills
Gear coupling - Following list to be displayed :
Half gear coupling
Model: JHG-100, JHG-101, JHG-102, JHG-103, JHG-104, JHG-105, JHG-106, JHG-107, JHG-108, JHG-109, JHG-110

Full gear coupling
Model: JFG-100, JFG-101, JFG-102, JFG-103, JFG-104, JFG-105, JFG-106, JFG-107, JFG-108, JFG-109, JFG-110, JFG-111, JFG-112, JFG-113, JFG-114, JFG-115, JFG-116, JFG-117, JFG-118, JFG-119